Extracurricular activities, including the interscholastic CYO sports program, are offered to all students of St. Pius X Parish School. The extracurricular activities supplement the formal instruction of the students and provide them with an opportunity to grow in leadership, sportsmanship, and self-discipline as they discover and develop their gifts and talents. All of the extracurricular activities seek to develop a sense of social responsibility, decision-making skills, commitment to community, as well as life skills and Christian attitudes. The co-curricular activities that are offered at St. Pius X Parish School are included below.
Students in grades 5-8 may be involved in an after-school sports program and participate in competitive play as well as privately sponsored tournament play during the school year. The sports students have the opportunity to participate in are listed below:
Boys Football
Girls Volleyball
Boys & Girls Basketball
Boys & Girls Soccer
Girls Softball
Golf (boys and girls)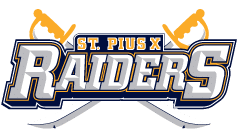 St. Pius X Student Council consists of a group of elected students in grades sixth through eighth grade. These students represent the student body of St. Pius X Parish School, working closely with the school's administration, faculty, and staff. The purpose of the student council is to promote school spirit and leadership among all students. Student Council leads the school in religious affairs, Christian service programs, community building activities, and working to improve the environment.
Students in grades 5 – 8 who meet the extracurricular activities requirements may practice for the Academic Decathlon. The Academic Junior High Decathlon for Catholic Schools is held annually on a Saturday in March. The competition includes two team events and eight individual events. A team of ten students representing the school is chosen from among those who practice for the competition. Practices may take place before or after school or on Saturdays, as determined by the coach. The Academic Decathlon team participation is contingent upon the provision of a moderator and coaches.
In addition to the Fine Arts programs which add to in class curriculum, students have opportunities to participate in after school programs. The programs available are listed below:
School Choir
Eligible students in grades 3 – 8 may try out for choir with a teacher recommendation. Choir practice takes place each Wednesday for 1 hour. Students in choir must diligently make up all schoolwork missed when they are excused from class to participate in practices that may be held during the school day to prepare for an upcoming performance. Failure to do so may result in removal from choir. Students who are on academic probation or who display inappropriate behavior in class or at choir practice will not be allowed to continue participating in choir.
Yearly, the school students have the opportunity to celebrate special, seasonal events. These events and programs offer an occasion for students and families to celebrate the spirit of community present in the school. The following are some of the events that take place throughout the school year:
Halloween Social
Thanksgiving Feast
Christmas Program
Catholic Schools Week
Father Daughter Dance
Mother-Son Night
Community Picnic