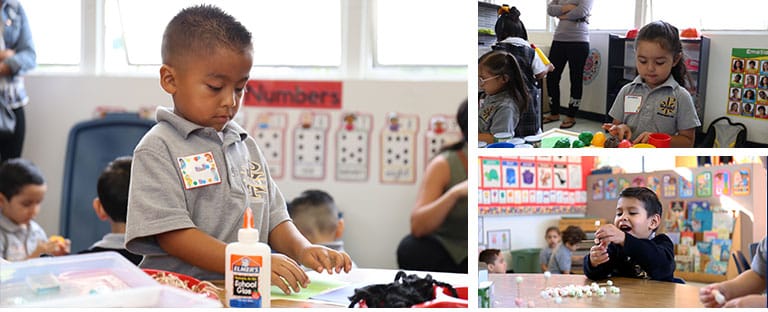 St. Pius X school will be offering a transitional kindergarten program for the 2018-2019 school year. TK is the "first year of a 2-year kindergarten program that bridges the gap between preschool and kindergarten. St. Pius will be offering a faith-filled program with hands on, developmentally appropriate academics. A small class size allows the teacher to differentiate instruction to meet the needs of all our young learners.
PROGRAM OFFERED:
The TK program is a full day program for children who turn 4 by September 1st. All children need to be fully potty trained.
HOURS:
Monday- Thursday
7:55 am- 2:45 pm
Friday
7:55 am – 12:15 pm
CURRICULUM:
Reading Readiness: Identification of all upper and lowercase letters along with sound recognition, rhyming words, spelling color words and reading sight words.
Math: number recognition 0-30, counting 50+, decomposing and composing numbers to 5.
Printing: 1st and last name, upper and lowercase letters, beginning sentence structure.
ADDITIONAL CURRICULUM:
Religion: Daily Prayer and Weekly Mass Physical Education and Music Hands on Social Studies and Science
ACTIVITIES:
Pumpkin Prayer Service
Apples and Teddy Bears
Happy Birthday Jesus
Community Helper Week